The Sheffield Half was my first official race of 2016 – I bought something called a White Rose double season ticket which is for that race and the Leeds half which is 4 weeks later. I've never done Sheffield before but have wondered whether the course would suit me – it's 5.5 miles uphill and then the rest of the run is almost entirely downhill. Most of my running is done around where I live in West Yorkshire, which is pretty hilly, so I am used to a bit of up and down, plus I have done a few sessions of hill training with the running club – I'm not claiming to be some running equivalent of Sir Chris Bonnington, but I'm not scared off by the idea of a climb.
This is the elevation map for the run –
My previous half marathon PB was set in 2013 at Leeds, 1 hour 47 minutes, and the goal I set myself for this White Rose Double was to see if I could get close to (or beat) that at Sheffield, but then to hopefully beat whatever my best time was (whether it was a new PB or the existing 1:47) 4 weeks later in Leeds. However, as you'll see, best laid plans don't always work out…..
I'd seen on the website that they had pacers from the local club at 5 minute intervals, I wanted to establish from them whether they were planning to run even pace all the way, as is more usual, or whether they took the extreme elevation into account. I had a conversation on twitter with the 1:50 guy, who assured me that common sense prevailed and that they looked at each mile and when I got there on the morning of the race, I could see that these guys were taking it very seriously, they had the mile splits worked out to the second……
This was the 2 hour guy's wrist band – how awesome is that?!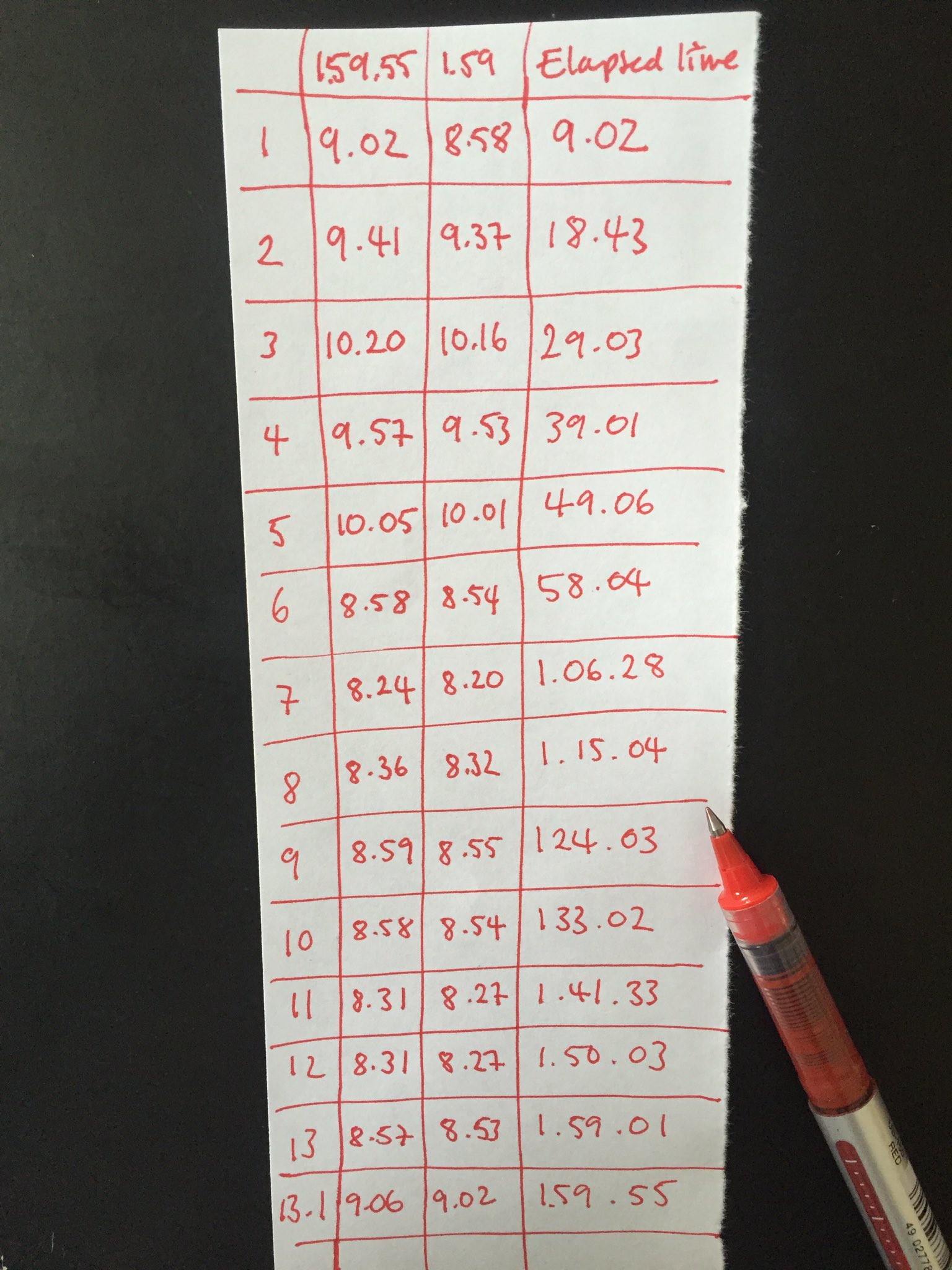 These guys are in the business of getting people around on target, getting PB's for people etc, it was great to see that this much thought and effort goes into this. I did a parkrun one time where the 24 and 26 minute pacers crossed the finish together, which isn't quite the idea.
So, I wanted to try to hook onto the 1:45 guy, but if he was too quick for me up the hills then I would accept that, and maybe try to catch him later. I went to the loo (again) and then found a place at the start. I figured that it didn't matter too much where I was because you get a chip time (your clock starts as you go over the mats at the start), but I struggled a bit in the first two minutes as I was getting boxed in by slower runners who had started too far up the field – another note to self for future reference, you need to be a bit selfish if you are focused on running a decent time and maybe start further forward. I had the luxury at the York marathon of being right at the front as a VIP, but of course that isn't always going to be the case (worst luck!).
I found a bit of room and tried to get into a rhythm, and after a mile was pleased with 8:09, then the next two miles, as we start to climb, were 8:02 (surely too fast) and 8:32 (the steepest mile) – I had genuinely thought that I would be running the early part of the race in 9:00 to 9:30 pace, so I was surprised by the fact that I was feeling pretty good, and also that I was going pretty quick. If I could sustain anything like this for the next two miles then it was, quite literally, all downhill from there.
I'd passed my 1:45 pacer guy somewhere between miles two and three, but didn't want to look around to see how far he was back, you can't sustain a rhythm and turn around! Another weird thing that happened at this point was that I got a tap on the shoulder, a guy (Mike) who had been following me on twitter had seen my shirt and sped up to catch me and say hello. I ran with him for about 50 yards, but it was a really steep bit and so he told me to run on, as he felt like he was slowing me down. That gave me a real boost and I kept pushing up the hill, I really felt like I was going a little bit faster than the people around me (should have started a little nearer the front!) – my next mile was, amazingly, 8:13. So I'd done 4 miles of mostly uphill running, and instead of the 9:15 pace expected, was running at about 8:15 average.
The next mile is billed as the "King of the Hill" mile – they have a special race within the main event where they measure just this mile, I guess it's like the Tour De France King of the Mountains (is that right?) – it's a long straight road which takes you right out into the Peak District, you can feel the temperature dropping as you climb. I was still feeling ok but I was starting to worry now about whether I was going to have used 90% of my available energy resources on the first third of the race, so I think I must have consciously held back just a little on this mile, but still came in at 8:32.
There's a tiny bit more climb and then it plateaus out, and you feel like you can relax. The Climb is over – just need to run the next 8 miles and job done!
I'll write a blog specifically about music at some point, I'm really interested in the use of music to aid physical exercise, and I try to choose things that will help me to run better. If I'm out on a training run I'll listen to a couple of albums, could be anything but will only be picked as I start running – but for a proper race I will make a playlist, and for Sheffield I made a specific "going up hill list" and then a "rest of the race" list. It was a really good gauge of how well I got up the hill by the fact that I was listening to my "three inspirational tunes designed to get me up the last bit"(I'll only tell you what they were if you promise not to judge me………) as I was hurtling downhill.
What – you want to know the three tunes? Totally not indicative of my taste in music, but "three inspirational tunes designed to get me up the last bit" were
Leona Lewis – Run
Taylor Swift – Out of the Woods
Miley Cyrus – The Climb
I know, I know, but you promised you wouldn't judge – I had a bunch of Wilco, Radiohead and Ben Folds to run back down to, if that makes me sound cooler?
Anyway, back to the running – I've done the first 5 miles significantly faster than I expected – here's the elevation for the rest of the race……
Mile 6 is pretty flat, I do that in 7:39 which is fast for me, then mile 7, which includes some of the steeper downhill bits, I do in 6:54. I laugh out loud at this point, the nice lady on my phone app, with whom I have a love hate relationship, dutifully announces my mile times on training runs, rainy runs, park runs, runs with my wife, and she very rarely gets to start her chitter chatter with the number 6! I'm pleased for her. She's be pleased for me, if she wasn't automated, I'm sure.
So the question now is, can I keep this going or am I done? We (me and the app lady) are in previously uncharted territory here. I've got exactly 10K to go, it's almost all downhill, I'm cruising along and to be honest, I'm feeling pretty good. Should I try to ease off the accelerator a bit or just keep doing what I'm doing? Some more downhill, and before I know it she's in my ear again, starts with a 7 this time (don't be disappointed for goodness sake, you're not Mo Farah), 7:03. I've run the last two miles in under 14 minutes. That's not far that off  my parkrun PB pace, and I've just run 5.3 miles uphill.
Just to speed this tale along a bit, what happens over the next 20 minutes or so is a mixture of a bit of a reality check, lots of excitement, and me trying to do maths in my head. I know that I am exceeding my expectations here, I'm on for comfortably sub 1:45 if I can hold it together, but I don't want to push myself so hard that I blow up near the end. The next two miles are a little bit flatter in parts, I do 7:43 and 7:40, which is pretty sensible and still on track for whatever it is I might be on track for.
One thing I never mentioned before now is that I'm entirely on my own today – I have no friends (ha ha I have no friends….), family, or anyone in attendance, except someone from work called Amy, who lives in Sheffield, has said that she'll be on Eccleshall Road around the 11 or 12 mile mark cheering people on. I have no idea where Amy is, but I spend the next two miles looking at the crowd, determined that when I see Amy I am going to be striding majestically and at some considerable speed – I don't see Amy of course, but those two downhill mile splits are 7:06 and 7:17, so without even realising it (or possibly not even being there) the mystery Amy has helped me a great deal.
A mile to go, and I'm feeling very tired now – I kind of feel like I am losing my cadence a bit and also my breathing is getting a bit random, but I know that as long as I keep moving, even if I don't quite keep this pace, I'm going to have a PB pretty comfortably. The crowds throughout the whole of this race have been brilliant, I've heard this race often cited as among the best supported anywhere in the country, and I concur with this view. They help keep me going, I even manage a ridiculous fast finish, which isn't ideal as there is an uphill bit and also a bottleneck just before the final straight. My last mile is 7:26 so I've kept up the insane pace to the finish and when I get my text through my official time is 1:40:36.
My old friend from the Yorkshire Marathon, Nicola Rees from Look North, crosses the finish line just after me, we have a quick chat and I even get to say hello to Harry too!
I wander around in shock for about 5 minutes, I'm hurting now but I am also so proud at the same time. Find the loos (I ran a half without a toilet stop – yay!), then walk back to the car. When I get out of the car after the hour or so drive home, I'm very stiff, and will be for a couple of days – I even manage a slight hamstring pull the next morning getting off the train in London – which means I can't run for about 4 days.
So on reflection – 1:40:36 was a PB by about 7 minutes, which was far beyond my expectations. The course suited me perfectly – I'm not sure that I can attack the Leeds course in a week or so with the same vigour, but if I'm feeling good on the day I'll give it a go. I was hoping to set myself a target to beat of about 1:45 – beating 1:40 might be too big an ask. I'm carrying more weight than I'd like at the moment too (which makes the Sheffield run more remarkable), I need to do something about that. Once I finish off my London job in three weeks it's holiday diet time!